5 Best Websites and Tools to Download English MP3 Songs for Free
Now-a-days, the craze of English Tracks has been doubled than that of Bollywood Songs. The Music Soul inside a Person is the Relief Giver to him/her from the day's work or hectic schedule. If you're a true Music Lover/Addict then you must be grooving up with songs usually whenever you're free. Many people usually keep me asking about some good sites to Download English Songs for free. Indeed there are a whole a lot of sites, but not a all of them provide the exact song which an user searches for.
So I have made a shortlist of the best websites that provides the choicest tracks demanded by an user. Also the tools which allows peers-to-peers file sharing, from where you can Download English MP3 songs for free. Have a look!
Websites
Tools
1. BearShare
BearShare – a peer-to-peer file sharing program that not only allows you to download the latest music and video but you can connect with friends and make new ones who are into the same artists. The users can easily access other profiles, pictures and their music libraries. You can easily download out the latest Pop, Rock, Rap/Hip Hop, and Alternative hits currently being played on video music channels and radio, but the extensive library of songs takes you a trip down memory lane. BearShare has one of the best collections of retro music in various genres. In fact the BearShare program is compatible with Apple iPod and other MP3 devices as well.
2. FrostWire
FrostWire allows any individual to share his/her content to millions of people right from his/her computer without any cost thanks to the BitTorrent P2P network. It offers faster download speed with a new interface for Media Gallery and Audio Player with new improved skins. It also supports internet radio and allows to send large files and folders. Online Chat Rooms make your communications more friendly. FrostWire Program is available for Windows, MacOS, Ubuntu, Debian and Android. Choose your platform and download it right away!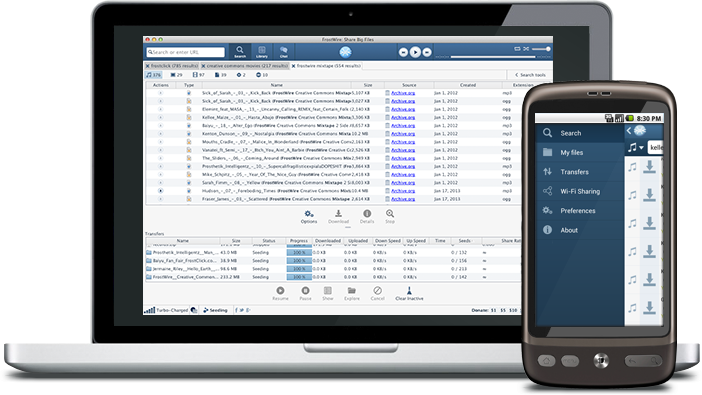 3. Ares
Ares engages millions of peers to create one of the largest  file sharing networks in existence today. Ares contains absolutely NO adware or spyware and is certified a 100% clean download. Ares is very user friendly and integrates easily with iTunes, so you can stuff your iPod to the limit! It has been downloaded and enjoyed by millions of people spanning the globe.
4. LimeWire Pirate Edition
Limewire is not only valid for downloading and sharing mp3, but you can use use it for downloading all kind of files, such as movies, music, games or everything you want, becauselimewire will help you find and downloading it. But unfortunately Limeware is dead due to some reasons. LimeWire Pirate Edition is the pirated version of the p2p program conducted by a group of users who managed to rescue the source code of this program, having been closed by court order in a case brought by the RIAA.
5. ShareAZA
Shareaza is world's leading free peer-to-peer file sharing network where you can easily find, download and legally share over 20 million free MP3 files, videos and more. With easy to use approach and tons of tools and friendly features, you'll gain access to millions of p2p file sharing songs, all can be downloaded quickly and safely to your computer.
Get the latest of Pop, Rock, Hiphop, alternative and more… file sharing has never been more fun! Shareaza will help you to find what you need, based on your taste, or current mood, it's that simple. Use Shareaza to sync your library with your iPod or other MP3 player, just plug and transfer. . all P2P all FREE!
Since the shut-down of Limewire p2p file sharing network, Shareaza is the #1 Alternative to Limewire as the leading p2p file sharing program out there.

Subscribe to CRUZELetters and Get all the Updates to your Mailbox.
We won't SPAM you at any cost. That's a PinkieSwear.